The Weekly Market

---
Downtown Harrisonburg in the Turner Pavilion
228 S. Liberty St.
Tuesdays
and
Saturdays
8 a.m. to 1 p.m.
---
Tuesday News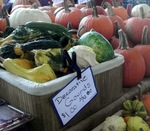 Tuesday is here, and with it comes an abundance of art, crafts, and produce at the Market.  Swing by on your lunch break to grab a meal and some fresh air.  You can also pick up everything you need to make those mid-week dinners go smoothly.  Take a stroll and experience the relaxed atmosphere of the Tuesday Market.  With the variety of goods available, there is no telling what will pique your interest!  
---
Vendor Updates
Sweet As Nature Bakery will be offering healthy cookies in a variety of four flavors: Crazy Cranberry,  Bouncing Blueberry,  O'Chocolate, and Cravin' Raisin.  Donna uses the finest ingredients, starting with milling her own flour from a soft wheat berry so that you receive all the nutrients possible.  Her cookies are naturally sweetened with Stevia.  And note, friends: she offers FREE samples!
Brenda Fairweather, who makes baskets and pottery, will be representing Oasis at the Market today.
Gloria's Pupuseria will have chicken tamales and soup today, in addition to their papusas.
Heartland Harvest will be at the Market today with their mouth-watering whole wheat doughnuts.  Stop by on your way to work and grab one for breakfast.
Woods Edge Farm will have plenty of green beans, kale, and mini pumpkins.
Magellan's Gift Micro Soap Company will have 18 different types of handcrafted soap available today.
Kevin from Crazy Fox Coffee says, "We will be brewing our organically grown fair trade Sumatra, Back Porch Blend, Rain Forest Alliance Guatemalan, Pumpkin Spice, and our chemical free water processed De-Caf.  Helen Wenger won a free bag of coffee last week; be sure to sign up for this week's drawing."
We have some very important news from Beverlee Kline of Juiced.  She will be having two hip surgeries shortly, but will be back at the market as soon as she can.  You can follow her on Twitter and Facebook to keep up with her recovery and expected return date. 
Gayle Shirk will be absent from the Market today, but she looks forward to seeing you on Saturday.
---
Enjoy a breath of fresh air at the Tuesday Market!
---
Forward this message to a friend | Click to view this email in a browser
Design by Camila Domonoske.  All text and photos are by Josie Showalter and Reber Cribb unless otherwise indicated.