The Weekly Market

---
Downtown Harrisonburg in the Turner Pavilion
228 S. Liberty St.
Tuesdays
and
Saturdays
8 a.m. to 1 p.m.
---
Tuesday News
We're Thankful!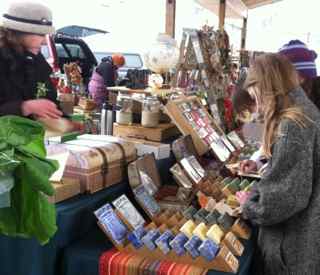 As we prepare for the last Tuesday Market of 2014, we are thankful for you – our customers and friends – and all of the ways you support the Market.  We're thankful for our amazing and committed volunteers, and we're thankful for the great group of vendors that make the Market what it is.  We could not do it without each one of you.
We hope you will join us today for the final fresh and local touches for your Thanksgiving celebration. You will find it all at the Market: fresh produce, beautiful baked goods, and amazing prepared foods and crafts (any of which would be a perfect hostess gift).  See you at the Market – the last Tuesday Market of 2014!
---
Looking Ahead
Winter hours (9 am to 1 pm) begin this Saturday with the "Unofficial after-Thanksgiving Market," and go through March 28th.  We are happy to announce that current Tuesday-only vendors Gloria and John Gerber (of Gloria's Pupuseria) and John Oakes (of Oakhill Greenhouses) will be joining us on Saturdays throughout the Winter.  We're thrilled that you don't have to wait until April to see their smiling faces!
---
Vendor Updates
Crazy Fox Coffee will be brewing their Market Blend, Sumatra, and water processed de-caf, along with a couple of holiday flavored coffees.  New this week they will have their holiday gift bags available.  Each bag contains a variety of eight two-ounce packets of coffee.
Jewelry is perfect for Thanksgiving hostess gifts or early Christmas presents.  You can find just what you need at Jan Carter Designs.  Jan will be at the market Tuesday and again on Small Business Saturday this week.  She'll be happy to wrap your purchases for you.  She accepts Visa and Master Card for your convenience.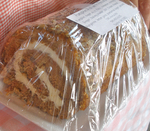 Doughnuts & More will be at the Tuesday Market this week with an assortment of dessert items for Thanksgiving.  Their pie selection includes pumpkin, pecan, mincemeat, or fruit pies in 9-inch and 4-inch sizes.  Come early or place an order for the best variety.  They will also have pecan tarts, pumpkin rolls, pumpkin cake, assorted cookies, and the first of their handmade chocolate truffles.  For those who enjoy their oatmeal wheat bread, they will be doing dinner rolls in oatmeal wheat as well as plain white rolls.
Lori Curry, creator of Magellan's Gift™ fine handcrafted soaps, would like to thank you for supporting the Tuesday Market!  Lori will be vending both Tuesday and Saturday this week.  She will also be with us for the December Holiday Markets and the Winter Market starting in January.  She says "May soft bubbles surround you!"
Ann Borgman of Gristmill Barkey will be making a special Tuesday appearance today with her Thanksgiving pastries and cookies.
---
Savor the last relaxed and abundant
Tuesday Market of 2014!
---
Forward this message to a friend | Click to view this email in a browser
Design by Camila Domonoske.  All text and photos are by Josie Showalter and Reber Cribb unless otherwise indicated.