Recipe Archive: Summer 2012
Tip: Use your browser's Search feature to find a specific recipe or ingredient.
Garlic and Chive Potato Cakes
As a child growing up and always enjoying a huge summer garden, potatoes played a large part in our meals. It was not uncommon to find potatoes on our plates daily. Whether at breakfast, lunch or suppertime, potatoes were, and still are, a go-to staple produce ingredient.
Having learned from my Grandmother that Potato Cakes originated in the necessity of the "Waste Not, Want Not" Depression era, typically they were last night's leftover cold mashed potatoes making a reappearance as a patty cake dredged in flour and fried in bacon fat.
While I love and appreciate "Heirloom or Heritage Cuisine," it's fun to take familiar or remembered flavors from our childhood and reinvent a whole new culinary tradition using different ingredients that either weren't available or were too expensive for our grandmothers. And, so the inspiration for the following recipe came from a recent visit to the Harrisonburg Farmers Market purchasing a container of Green Haven Farms' Garlic and Chive Goat Cheese and what I call "just dug" new potatoes. You can make these into small patties (size of a walnut) and serve as appetizers or regular size for an excellent side dish or even as a vegetarian entrée served with mixed salad greens. Soft and creamy on the inside, with a lovely tang from the goat cheese and just the right hint of garlic along with the crispy panko crust, this recipe is sure to please the potato lover in all of us.
Ingredients
12-14 ounces new red potatoes or Yukon gold potatoes, washed and cut into quarters
4 oz. container Green Haven Farms' Garlic and Chive Goat Cheese
3 tbsps chives, snipped
Salt and pepper, to taste
Panko plain bread crumbs
2 tbsps olive oil
Directions
Place potatoes in a large saucepan, cover with cold water and bring to a boil. Cook until fork tender, then drain. Place in mixing bowl and gently break up potatoes with a fork. Let potatoes cool for 30 minutes. Add goat cheese, chives, salt and pepper. Chill in refrigerator for at least 30 minutes, or even overnight. Form potato mixture into four patties and coat in bread crumbs. Add olive oil to medium sauté pan, add breaded potato cakes and cook three to four minutes per side over low-medium heat, or until lightly browned and hot all the way through. Serves 4.
~ Eve Jordan
---
Whitney's Potato Salad
This recipe comes from my niece Whitney. (Whitney resides in the village of Flint Hill. Whitney graduated from two different institutes: The Virginia Military Institute and the Culinary Institute of America). It features other ingredients from the Farmers Market and is easy to make and serve. This is a year-round favorite…but especially in the summer with new potatoes.
Ingredients
8 new small to medium red potatoes (scrub well, but do not peel)
1/4 cup lemon juice (fresh squeeze)
1/4 cup light extra-virgin olive oil or canola oil
Salt to taste
1/2 tsp fresh ground pepper
2 celery stalks, cut into 2-3-inch pieces
1 onion, cut into eight pieces
4 hard-boiled eggs, peeled and cut into halves
3/4 cup mayonnaise
2 tbsps apple cider vinegar
Boil potatoes until just done. Cut into eighths. Combine the lemon juice, oil, salt and pepper. Toss with hot potatoes. (It is important for the potatoes to be fairly hot when you add the lemon juice/oil blend). Allow mixture to cool in a fairly large bowl.
In a food processor, pulse the celery and onions. Add the hard-boiled eggs and pulse two to three more times.  Using a large rubber spatula, gently fold in the chopped celery/onion/egg mixture to the cooled potatoes. Stir together the mayo and apple cider vinegar. Fold this into the potato mixture, taste and adjust seasonings. Chill well before serving. Sprinkle with paprika and garnish with parsley. (Crisp & crumbled bacon may be added at the end). Serves 8-10
If this is part of your picnic, please observe food safety rules by keeping cold foods:
Keep cold food cold. Keep cold food at 40°F or colder to prevent bacterial growth. To do so, pack cold foods in a sturdy, insulated cooler with plenty of ice or frozen gel packs. Freeze your own blocks of ice in milk cartons or plastic containers for use in the cooler. Put cold foods in water-proof containers or wrap in plastic wrap or aluminum foil and completely immerse in the ice inside the cooler. If using frozen gel packs or containers of homemade ice, place them between packages of food; never just set containers of food on top of ice. Mayonnaise-based foods need to be kept cold. Mayonnaise alone is too acidic for bacteria to grow in it. However, when mayonnaise is mixed with other foods, (particularly those that have been handled a lot and/or are protein foods), bacteria can grow if this mixture is kept too warm. (http://www.ces.ncsu.edu/depts/foodsci/ext/pubs/picnic.html)
~ Penelope Ferguson
---
Squash Fries
You can bake a batch of Squash Fries to have with the bison burgers you may be grilling. Here is a recipe suggestion adapted from Terry Blonder Golson's 1,000 Lowfat Recipes.
Ingredients
1 tbsp vegetable oil
3 medium zucchini, or any other summer squash
3 tbsps milk
1 egg white
1/2 cup dry breadcrumbs
1/2 tsp kosher salt
1/4 tsp freshly ground pepper
2 tbsps grated Parmesan cheese
Directions
Preheat oven to 425°F, making sure the oven rack is in the top third of the oven. Coat a baking sheet with oil. Cut squash into fry-size spears, scraping out seeds if they are large in size.
Whisk together the milk and egg white. Toss the squash in the mixture until it is well coated. Combine the breadcrumbs, salt, pepper and cheese. Dip the squash in this mixture a few pieces at a time, and remove with tongs and place on the prepared baking sheet. Leave a space between the squash fries so they can get crispy.
Place in the oven and bake for 7 minutes, then turn the squash with a metal spatula gently and continue to bake until brown, another 6-10 minutes. Enjoy! Serves 6.
---
Roasted Vegetable-Cheese Pie
Try this Cooking Light recipe for a light summer special occasion meal.
Ingredients
2 cups cooked jasmine, basmati or long-grain rice
2 large egg whites, lightly beaten
1/4 cup grated Parmesan cheese
Cooking spray
1 1/2 cups sliced zucchini (or Mediterranean squash!)
1 1/2 cups sliced yellow squash
1 cup thinly sliced onion
1 cup thinly sliced fennel bulb (about 1 small bulb)
1 tsp dried or 1 tbsp fresh basil
1 tsp dried or 1 tbsp fresh oregano
1 tsp olive oil
1/4 tsp salt
2 garlic cloves, crushed
1/4 cup chopped pitted kalamata olives
1 tomato, sliced
1/2 cup (2 ounces) fontina cheese, divided
Directions
Preheat oven to 400°F. Combine first three ingredients. Press evenly into a 9" pie plate coated with cooking spray. Bake at 400° for 10 minutes. Remove from oven. Increase oven temperature to 450°.
Combine zucchini, squash, onion, fennel, basil, oregano, olive oil, salt and garlic in a medium bowl; stir to coat. Place vegetable mixture on a baking sheet coated with cooking spray. Bake at 450° for 15 minutes or until vegetables are tender. Remove vegetable mixture from oven. Add olives and tomato; toss gently.
Reduce oven temperature to 375°.
Sprinkle 1/4 cup fontina cheese over rice crust. Top with vegetable mixture. Sprinkle with 1/4 cup fontina cheese. Bake at 375° for 30 minutes. Serves 6.
---
Farmers Market Lucky Pot
This is a one-pot meal, and the whole-wheat couscous and yellow split peas make a complete protein for the vegetarians out there.
1 cup whole-wheat Israeli couscous (or whole grain of choice)
1 tbsp oil
3 garlic cloves, minced
1 bell pepper (I used a purple pepper), chopped
1 onion, chopped
1 (or two) summer squash, chopped
1 pint yellow split pea curry soup
1 1/2 cup chopped greens (such as chard, kale, collards, etc.)
Fresh basil strips for garnish
Directions
In a small sauce pan, bring 1 1/4 cups water to boil. Add couscous, bring back to boil, reduce heat to low and simmer, covered, for 20 minutes or until all water has been absorbed.
Heat oil in a large skillet. Sauté garlic, onion, pepper and summer squash until tender. Add the curry soup to skillet and bring mixture to a simmer. Add chopped greens and simmer until greens are wilted and tender.
Serve curry mixture over couscous and top with basil strips for decoration. Easy and yum! Serves….well it depends on how big the squash was!
---
Moraccan Mint Cucumber Salad
This recipe comes to us from Bluestone Vineyard. They recommend pairing it with their 2010 Traminette white wine.
Ingredients
1 lb cucumbers
1 lb fresh, ripe tomatoes
2 tbsps chopped fresh mint (or parsley)
2-3 tsps finely chopped onion
2 tbsps lemon juice or vinegar
3 tbsps olive or vegetable oil
Salt & pepper to taste
Directions
Lightly peel the cucumbers so that some of the green skin remains. Remove the seeds with a teaspoon or other utensil, then finely chop. Peel the tomatoes, remove seeds, and chop into small pieces.
Mix the cucumbers and tomatoes with the mint, onion, lemon juice or vinegar, oil and salt and pepper. If time allows, let the mixture sit for up to an hour at room temperature or in the refrigerator to marinate.
---
Cucumber Triangles
This recipe is a good teaching for youngsters, introducing them to cutting, shapes & taste.
Ingredients
3 large cucumbers
2 tbsps butter 
Salt & pepper to taste
2-3 tbsps fresh dill, minced (or amount to taste)
Directions
1. Peel the cucumber (zebra-style) and slice in half lengthwise. Using a spoon, scoop out the seeds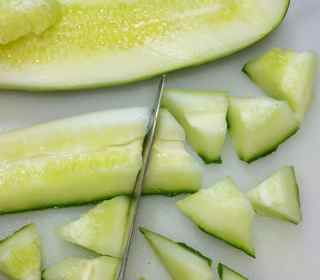 leaving a hollow. Slice the cucumbers again in half lengthwise; then cut into triangles
2. Melt the butter in a sauté pan over moderate heat. Add the cucumber triangles and sauté until the cucumbers are almost cooked through, but still with some crunch/resistance. Season with salt & pepper to taste.
3. Toss with the minced fresh dill (to taste). Finish with a bit more butter, if necessary.
Serve warm. Serves 6. This is easily adjusted to the number you need to serve.
~ From Julia Child & More Company, 1979.
---
Creamy Mint Cucumber Salad
Vegetarian (substitute non-dairy yogurt to make vegan).
Ingredients
3 medium cucumbers, "zebra peeled" and sliced thin
1 tbsp minced fresh dill
3/4 cup nonfat yogurt
2-3 tbsp chopped fresh mint
1 small red onion, chopped
1 tbsp white wine vinegar
1/2 cup raisins, mix of dark & golden
Fresh ground black pepper
Leaf lettuce, red or Boston bibb
1/4 cup toasted walnuts or pine nuts
Directions
In a large bowl, combine the cucumbers, yogurt, onions, raisins, mint, dill, vinegar and pepper. Toss to mix well. Serve over the leaf lettuce and sprinkle with the toasted nuts and additional chopped mint.
For a one-bowl meal, sauté minced veggies, like diced carrots, onions, garlic, celery and whatever needs to be used up. Add to the hot sauté mixture some already cooked rice, couscous, quinoa; mix and heat through. Serve in a soup bowl and top with the cool, crunchy and minty cucumber salad. A one bowl meal indeed: complete protein, calcium, a starch and veggies to boot. Serves 4.
~ From New Vegetarian Cuisine, Prevention Magazine, 1994.
---
Open-Face Cucumber Sandwiches
à la Farmers Market
Make as many as you need. Children can be helpful with the cheese and spreading it. Let them decorate the tops of the cucumber slices…imagination is the key.
Ingredients
Thin slices bread (tapered loaf)
Thin slices cucumber, regular or seedless
Soft 6-8 oz goat cheese, room temp (you can also blend with some standard cream cheese)
3 tbsps finely chopped fresh parsley
2 tbsps finely chopped fresh tarragon
2 tbsps finely chopped fresh chives
½ tsp freshly ground black pepper
Directions
Blend the goat cheese (and optional cream cheese), black pepper and finely chopped herbs (use those listed above, but almost any chopped fresh herb will do…dill is wonderful, especially as a top decoration). Taste and adjust seasonings. Spread the cheese blend* on the small rounds of the bread. Top with the cucumber slices and decorate with extra chopped herbs, tiny pimento bits, diced red onions pieces…be creative.
*Another cheese spread to try, is the pre-made pimento cheeses found at the Farmers Market. You would not need the herbs to blend, but use minced herbs to decorate. Try spreading hummus on the rounds and top with cucumber and food decorations!
---
Roasted Eggplant and White Bean Hummus
Vegan, packed with protein, gluten free, with B vitamins and antioxidants — all to nourish you.
Ingredients & Directions:
1 medium eggplant, roasted, (see instructions above)
4 cloves of garlic (mix of regular and elephant), unpeeled, roasted with the eggplant. After roasting peel and add to the eggplant pulp.
Place the roasted eggplant and garlic in a food processor.
Process briefly.
Add to the food processor:
Fresh basil 1-2 tbsps (approximately)
Fresh Italian parsley, 1/3 cup minced
Pulse briefly.
Add to the processor:
1 15-oz can of cannellini beans (white kidney beans), drained & rinsed
Lemon juice, from 1 fresh lemon
2 tbsps olive oil
1 teaspoon paprika
Grinds of fresh ground pepper, optional
Pulse briefly
Serve with gluten-free breads or crackers as desired (use regular breads for those who can tolerate wheat products).
---
Penelope's Eggplant Patties
This featured recipe is my favorite. I served it plain; however, consider serving with a light tomato sauce or salsa.
Ingredients:
1 1/2 pounds eggplant.
1 cup butter-type crackers, crushed, about 3/4 sleeve (column)
1 large egg, lightly beaten
1 1/4 cup cheese combination (Cheddar, Feta, Goat, Monterrey Jack, etc.)
4 tbsps herbs: combination parsley/basil/oregano or other fresh herbs of your choice
2 tbsps green onion chopped, or 1 slice regular onion, minced
1 clove garlic, minced
Ground pepper to taste
1/2 – 1 cup (additional) butter-type crackers, crushed to coat the patties.
Pan spray to sauté
Oven roast the eggplant, scoop out the flesh and save. Discard skin and ends. Mash the roasted eggplant flesh in a bowl, add the 1 cup of cracker crumbs and beaten egg and stir.
Add the shredded cheese, minced herbs, onion, garlic and pepper. (Some of this can be pulsed together in a food processor). Add this to the eggplant and mix lightly. Taste and adjust seasonings.
Heat a skillet over moderate heat, using pan spray. Scoop 1/4 – 1/3 cup of the eggplant mixture, roll in the additional cracker crumbs and place in the heated skillet. This should make about 9-10 patties.
Sauté 3-4 minutes per side. Serve.
---
Peach Cobbler
Penelope Ferguson, fellow Food Corner writer, helped me out with this Peach Cobbler recipe.
Penelope shares the following: This recipe comes from a small red flip-top cookbook: Recipes from the Shenandoah Valley (Shenandoah Press, Dayton, Virginia, 1959; Eleventh Edition, 1972). The recipes are local, and the names of the contributors are familiar family names. The Peach Cobbler is from Mrs. Wilbur S. Pence, and I have used it over the years without any changes.
Ingredients:
1 cup sugar (I now use organic)
1 tbsp fresh lemon juice
1 tsp grated lemon peel
1/4 tsp almond extract
3 cup sliced fresh peaches (I wash, but do not peel); you may need more to fit your dish.
Directions:
Arrange the peaches in a sprayed/buttered baking dish; I use a deep dish glass pie-dish. Mix sugar, lemon peel, lemon juice and almond extract, then sprinkle over the peaches. Bake in 400°F oven for 5-10 minutes, while preparing the topping.
Topping:
Ingredients:
1 1/2 cup sifted flour
1/3 cup butter
1 tbsp sugar
1 egg
1 tbsp baking powder
1/2 cup milk
1/2 tsp salt
1 tbsp sugar (for sprinkling)
Directions:
Sift together the first four. Cut in the butter with pastry blender. Beat the egg and milk together and add all at once to the flour mixture. Spoon this dough over the top of the peaches and sprinkle with the last tablespoon of sugar. Return to oven and bake for 30 minutes or until done. Serves 8
---
Grilled Ginger Peaches
This recipe was a joint sharing from my friends Melissa and Karen. These warm peaches could be a great side dish to grilled chicken or pork, OR top with some ice cream for another awesome peach dessert.
Ingredients:
1 cup orange juice (I used fresh squeezed!)
1 tsp ground cumin
1 tsp ground ginger
1 tsp brown sugar
ground cayenne pepper, optional to taste
peaches!
Directions:
Mix together orange juice, cumin, ginger and brown sugar. Rinse peaches and slice in half, removing the pit. Soak peaches in orange juice mixture for a few hours or overnight. Grill sliced-side down until peaches are warmed through and caramelized on the surface.
---
Peach Smoothie
This recipe comes from my friend Megan and is an amazing and healthy hot summer treat!
Ingredients:
1 1/4 cup coconut milk (I like vanilla for smoothies!)
half a fresh peach, cut up
2-3 tbsp of hemp seeds
2 dried dates, or sweetener of your choice — agave, maple syrup, whatever…
handful of ice
Directions:
Put everything but the ice in blender and blend till smooth. Once blended add ice and blend further. The ice helps get a frothy consistency.
This is just a starting point to find your favorite combo. Try adding some nuts or cinnamon. Maybe even make your own almond milk…it's super easy!
---
Lazy Corn Stew with Taxi and Sun Gold Tomatoes
from Deborah Madison's Local Flavors.
Ingredients
1 bunch scallions
1/2 lb yellow summer squash
4 ears sweet corn
3 yellow tomatoes
1 1/2 tbsp butter
Salt and pepper, to taste
1/2 jalapeno, seeded and finely diced
Several sprigs basil
10 sun gold tomatoes
Directions
Cut the scallions, including the firm greens, into 1/2-inch lengths. Cut the squash lengthwise into quarters or sixths, then into 1/3-inch dice. Shuck the corn, and then slice off the top two thirds of the kernels with a sharp knife. Reversing your blade, press out the corn milk.
Peel and seed the yellow tomatoes, squeezing the seeds and juice into a strainer placed over a bowl. Cut the flesh into 1/2-inch pieces and set aside.
Melt the butter in a wide skillet over medium heat. When bubbling, add the scallions and cook for about 30 seconds. Add the squash, season with 1/2 tsp salt and stir. Cook for about 2 minutes, then add 1/4 cup water. Lay the tomato pieces over the squash, add the strained juice and cover with the corn and half the jalapeno. Bury two large sprigs of the basil into the veggies, then cover the skillet. Reduce the heat to low and cook for 15 minutes.
Meanwhile, slice the sun gold tomatoes in half and set them in a bowl. Add 2 tbsps torn basil leaves and the remaining jalapeno. Season to taste with salt and pepper. Strew the sun gold tomatoes over the top and serve. Serves 4 as a side dish.
~ Hannah White
---
Tomato Bread Pudding
From the kitchen of my mother, Patricia Graves.
Ingredients
1 qt. fresh tomatoes, peeled and stewed
Approximately 3 cups bread (such as dinner rolls, sourdough, or French), cubed
3 tbsps butter
1 onion, diced
1 clove garlic, minced
Fresh herbs, chopped (to taste)
Dash sugar
Salt and pepper, to taste
Directions
In a skillet heat half the butter on medium heat. When bubbling, add the garlic and onion. Cook for about 2 minutes. Add some juice from tomatoes to avoid burning. Cook for another 15 minutes, then add tomatoes and herbs. Season with salt and pepper. Add bread and sugar. Stir to combine. Transfer to a casserole dish and cut the remaining butter over the surface. Bake at 350 for twenty minutes or until sides bubble and top is golden. Serves 4 as a side dish.
~ Hannah White
---
Basil Pesto
Ingredients:
2-3 cups fresh basil leaves, tightly packed
1-2 cloves of garlic, (can be increased or decreased accordingly as desired)
1/2 cup pine nuts, walnuts or pecans, toasted
1/2 cup freshly grated Parmesan cheese
1/2 cup (more or less) olive oil or a blend of olive, canola or grapeseed oil
Directions:
Place the basil, garlic, nuts and cheese in a food processor.  Pulse and start processing.  Through the chute add the oil (can use some water) until a thick paste forms.
Blend. Serve or freeze.
---
Dad's Slaw
I am excited to share my Dad's recipe with you below, which uses traditional green cabbage. He also allowed me to share that the measurements listed here are a starting point and the sauce SHOULD be adjusted to taste!
Ingredients
1/4 cup mayonnaise
4 tsps red wine vinegar
2 tsps sugar
1/2 tsp black pepper
6-8 cups thinly sliced green cabbage
Directions
Mix together first four ingredients; adjust measurements to suit your taste. Toss dressing with sliced cabbage and enjoy!
---
Red Cabbage-Apple Compote
This recipe comes from Cooking Light Magazine, November 1998. It is packed with fall flavor and is a super-rich accompaniment to roasted chicken or pork.
Ingredients
1 tsp vegetable oil
5 cups thinly sliced red cabbage
2 1/2 cups diced, peeled Granny Smith apples (about 3/4 pound)
1 cup diced onion
3/4 cup apple juice
1/2 cup maple syrup
1/4 cup balsamic vinegar
1/4 teaspoon salt
1/8 teaspoon black pepper
Directions
Heat the oil in a large skillet over medium-high heat. Add the cabbage, apple and onion; sauté 3 minutes. Stir in apple juice and remaining ingredients. Cover, reduce heat to medium, and cook 35 minutes, stirring occasionally.
---
Roasted Napa Cabbage
This really simple recipe was adapted from the Food.com website, where it got rave reviews.
Ingredients
6 tbsps vegetable oil (or Market canola oil!)
2 garlic cloves, crushed
6 cups Napa cabbage, roughly shredded (don't skimp on this — it cooks down A LOT)
Salt to taste
Pepper to taste
Directions
Heat the oil in a skillet on low; add the garlic cloves and cook very gently for 15 minutes. Discard the garlic (I skipped this and roasted the garlic along with the cabbage) and toss the cabbage with the oil, salt and pepper.
Preheat your oven to 450°F
Place the cabbage on a baking sheet and bake for about 15 minutes or until the tops of the cabbage pieces are browned.
Serve hot.
---
Roasted Brussels Sprouts
I love roasted Brussels sprouts, and this recipe is just a starting point! I like the sundried tomatoes, but you can add nuts, bacon, onions, etc. The options are endless!
Ingredients
1 lb Brussels sprouts, halved
1 tbsp butter melted
2 tbsp oil
2 cloves garlic, coarsely chopped
6 sundried tomatoes (give or take), reconstituted in hot water
Salt to taste
Pepper to taste
Directions:
Preheat oven to 400°F. Toss all ingredients together and roast, stirring a few times for 35-40 minutes or until sprouts are tender and outer leaves are browned.
---
Waterapple Juice
Slurping the juice out of a fresh-cut watermelon is a delight in itself…but this juice recipe offers a fun, refreshing twist. If you have a juicer machine, definitely give this a shot.
Ingredients:
3 apples
2 thick slices watermelon
1 small bunch fresh mint
Directions:
Run all ingredients through a juicer and pour into glasses. Garnish with sprigs of fresh mint.
~ From The Big Book of Juices by Natalie Savona.
---
Watermelon Gazpacho
Ingredients:
8 cups coarsely chopped seeded watermelon
5 ripe tomatoes, cored and quartered
1 rounded tbsp sweet smoked paprika
1 clove garlic, smashed
1/2 cup whole toasted almonds
3 tbsps balsamic vinegar
1 tsp chipotle pepper sauce
Salt
1/4 sweet white or red onion, finely diced
1 cucumber, seeded and diced
Directions:
Blend two cups of the watermelon in a blender until liquid. Add the rest of the watermelon, tomatoes, paprika, garlic, almonds, balsamic vinegar and chipotle sauce, and blend until smooth. Transfer the soup to a bowl and taste, seasoning with salt as desired.
Chill for an hour before serving. Garnish with a spoonful of theonion and cucumber dice. Serves 4.
~ From Lucid Food: Cooking for an Eco-Conscious Life, by Louisa Shafia.
---
Summer Melon Stew
Ingredients:
2 cups melon (cantaloupe, honeydew, etc.) balls, scooped with a melon baller
1/2 cup chopped fresh herbs (mint, basil, cilantro)
Juice of 2 limes
7 cups chopped watermelon
2 ripe mangoes, peeled and pitted
1 tsp culinary lavender (or 2 fresh sprigs of lavender)
1/2″ piece ginger, peeled
3 cardamom pods
Directions:
Put the melon balls, herbs and lime juice in a bowl. Toss and set aside.
Put the watermelon, mangoes, lavender, ginger and cardamom in a blender and blend until smooth, tamping down as needed. Add the broth to the fruit and stir well.
Serve immediately or cover and refrigerate up to two days. Serves 4.
~ From Raw Food for Everyone by Alissa Cohen.
---
Cantaloupe with Fresh Raspberry Sauce
Ingredients:
1 medium cantaloupe
8 oz. fresh red raspberries
1 tsp sugar
1 tsp lemon juice
Directions:
In a blender, puree the raspberries with the sugar and lemon juice. Pour the puree into a fine-meshed sieve over a bowl and mash with the back of a spoon. This should leave you with about 1/2 cup of sauce.
Cut the cantaloupe in half through the stem and blossom ends (lengthwise). Peel and seed each half and cut them into wedges lengthwise. Then cut crosswise into thin slices, creating fan shapes.
On individual dessert plates, fan out slightly overlapping cantaloupe slices and drizzle with raspberry sauce. Serves 4-6.
~ From Moosewood Restaurant: Cooking for Health by The Moosewood Collective.
---
Tomato, Cucumber, Purslane Salad
Ingredients:
1 large cucumber, peeled, quartered lengthwise, chopped
1 medium tomato, chopped
About 1/2 cup chopped purslane
1 minced seeded jalapeno chile pepper
2-3 tbsps fresh squeezed lemon or lime juice
Salt to taste
Directions:
Combine all ingredients in a serving bowl. Salt to taste.
~Adapted from www.simplyrecipes.com
---
Green Purslane Smoothie
Ingredients:
3 cups purslane
1 small watermelon
Juice of 3 fresh limes
Dash salt, optional to taste
Directions:
Put all ingredients in food processor and puree until smooth. Yields 2 quarts.
~Adapted from www.rawfamily.com/recipes by Victoria Boutenko
---
Eggplant, Smoked Mozzarella and Sun-Dried Tomatoes with Fresh Marinara
Marinara Sauce:
1/4 cup extra virgin olive oil
1/2 large onion, diced
2 large cloves garlic, finely minced
3 oz tomato paste
2 1/2 lbs plum tomatoes, peeled, seeded and diced
1 bay leaf
1/2 tsp red pepper flakes
1/4 cup fresh basil, chopped
1 tbsp fresh oregano, chopped
Salt and pepper, to taste
Directions:
In a sauté pan, heat the oil and add the onion and sauté until translucent. Add the garlic and tomato paste. Cook over medium high heat for two minutes to bring the sugar out of the paste and add the tomatoes, bay leaf, and red pepper flakes. Simmer for 15 to 20 minutes and add the herbs. Season with salt and pepper as desired. Serve over eggplant.
Eggplant:
1 large eggplant, cut into 1/4″ slices
Salt
8 oz smoked mozzarella cheese, sliced
4 oz sun-dried tomatoes packed in oil
1/2 to 1 cup all-purpose flour
2 eggs, beaten with 2 tbsps water
12 oz dry Italian breadcrumbs with seasoning
2 cups olive oil
Directions:
Salt the slices of eggplant and lay out on a cookie sheet for one hour to release the bitterness. Rinse well and pat dry. For each two slices of eggplant, create a sandwich with one slice of eggplant as the base, a slice of cheese and a few pieces of sun-dried tomato topped with the other slice of eggplant. Dredge in flour and then egg wash and finally the crumbs. Heat the oil in a heavy skillet over medium heat. When hot, place the eggplant sandwiches on one side to brown. Flip and brown on the other side.
The key to making these work is to not have the oil too hot as to burn the crumbs but hot enough to cook the eggplant and melt the cheese in the time it takes the crumbs on the eggplant to brown.
Serve with sauce. Makes approximately six portions.