The early fall air is delightfully fresh — so are all of the beautiful fall crops at the Market in addition to many of the late summer products, lingering still, for a few more weeks. This is the time of the year to allow a few extra minutes to explore the Market thoroughly because you will be sure to find something that you did not expect…and perhaps something completely new to your experience!
| | |
| --- | --- |
| | |
For our cooking demo this week, enthusiastic Market shopper and amazing chef Raj Zvuvhol will be featuring a fall classic, Roasted Butternut Squash Bisque, at the Market tomorrow. Look for Raj around 10:00 in the alley just behind the central info/ATM table. Be sure and stop by to get your free sample of this fabulous fall soup staple! Raj says, "This bisque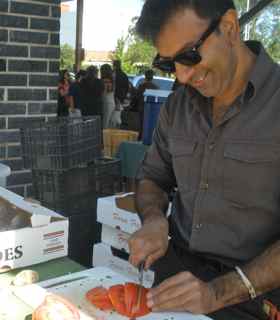 celebrates the flavors of the Valley in fall. The slow cooking of onions and garlic in local butter brings out their sweetness. The apple cider, cinnamon and herbs epitomize the aroma of autumn months. This bisque is rich in protein but is also suitable for vegetarians. We like to make a huge pot of it. It warms even the coldest of evenings." See the Recipe section below for the recipe.